Management Review Meeting
by Dinakar Murthy Krishna
The management review meeting is one of the most important practices for any business. The key success factors and some standard metrics for any company are listed below.
Key Success Factors:
Planning Points
Diligent choice of metrics for review
Easily verifiable standard for each metric
Reporting must be more often than the review
Reporting Points
Previous Actuals, Goal/Target, Current Actual, Latest Estimate
Measures with Responsibility (Individual), Due Date and Status
Standard Agenda with prior (at least 2 working days) MIS reports
Pre Meeting Points
Visit the War Zone to feel the reality and the spirit
Prior discussion with all the involved on Pros/Cons
During Meeting Points
Random check of correctness/thoroughness of reports
Open discussion/debate before decision making
Post Meeting Points
Documentation of MoM with clear Responsibility/Due Date
Offline structured follow-up of all Open Points
Standard Metrics
Customers/Clients
Market share
Top Line
Price Change Rate
New Product/Project Status (On Spec | On Time | On Budget)
Customer Satisfaction (Complaints | Social Media Clutter)
Receivables Ageing
Function/Quality
Functional requirements for new developments
Corrective, Preventive and Predictive Measures for Complaints
Corrective, Preventive and Predictive Measures for internal rejections
Corrective, Preventive and Predictive Measures for incoming rejections
System, Process and Product Audit Status
Delivery
Volumes
OTIF (On-Time-In-Full) to Customer/Client
OTIF (On-Time-In-Full) from Vendors
Full kitting
Inventory coverage
Stocks Ageing
Payables Ageing
Cost
Productivity
Fixed cost development
Variable cost development
Unplanned cost
OEE and Utilisation of constraints
Overtime
Purchase Price Index
CAPEX Development
Personnel
Headcount development
Bench Strength
Absenteeism rate
Employee Engagement (Grievances | Social Media Clutter)
Maturity Level of Change Initiatives
Training and Development Status
Appraisal status
Talent pool status
I use the same basics to help my clients with Consultancoaching based on my structured Methodology to reap these benefits.
Upto 50% productivity improvement
Upto 70% reduction in throughput time
Upto 50% reduction in defects
Upto 50% reduction in inventory
Reduction in Receivables from >6M to <2M
>98% On-time in Full (OTIF) based on initially committed date
Upto 40% growth
Upto 50% improvement in profitability
Total internalization of the introduced practices
Significant reduction in MANAGEMENT ATTENTION
In order to reap these benefits, the L2L System too needs to be implemented thoroughly, if not already done.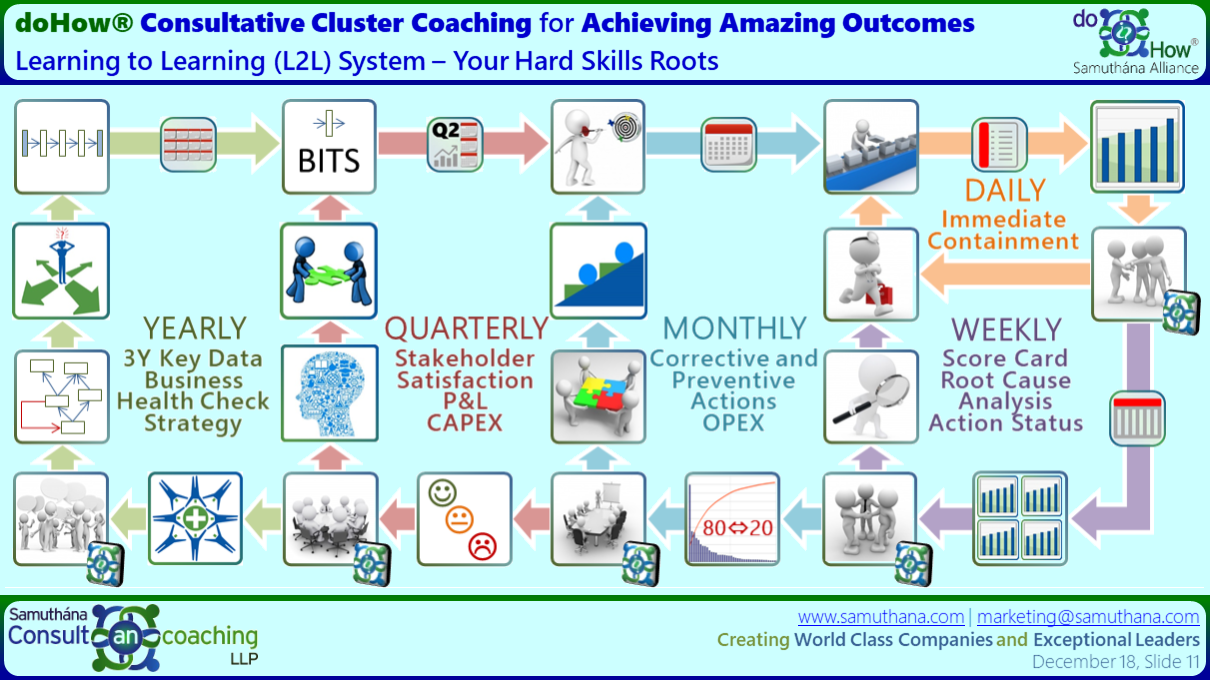 However, it is very important to note that both the key success factors and the metrics need to be customised after a thorough Business Health Check, which needs to be repeated every year.
Happy Reading!!!