Employee Performance and Competency Assessment
by Dinakar Murthy Krishna
Recently I attended a NHRD event in Bengaluru – a panel discussion in groups on "What does it take to become a HR Head". The program was very unique with the participants divided into groups of 8 to 10 including an accomplished HR Head in each group sharing his/her perspective followed by a short group discussion. The same was then repeated by exchanging the HR Head.
THE ABILITY TO UNDERSTAND, ADDRESS AND SPEAK THE BUSINESS LANGUAGE emerged as the core skill to become a HR Head almost in all groups. The main ability was to align all the people to the organization/business need both in good and bad times. One of the tools used to do this naturally is the annual appraisal of competencies and performance. I am sharing my views on how the rating can be done, so that on the one hand the need of force fitting the assessments to a normal curve becomes redundant due to the inherent robustness of the rating scale and on the other simplified.
It is sufficient to rate just the following 4 factors to assess the performance. I have seen that the gut feel each one of us develop of others is quite uniform when the number of factors are reduced!
On time in full delivery of commitments and tasks
Safety and quality of products/services and work done
Effective and systematic usage of resources (Finance, Space, Materials, Equipment, Machinery, Skills, Time and People)
Timely thorough response to requests
The rating scale however has a wider spread of 1 to 7 as explained in the exhibit below.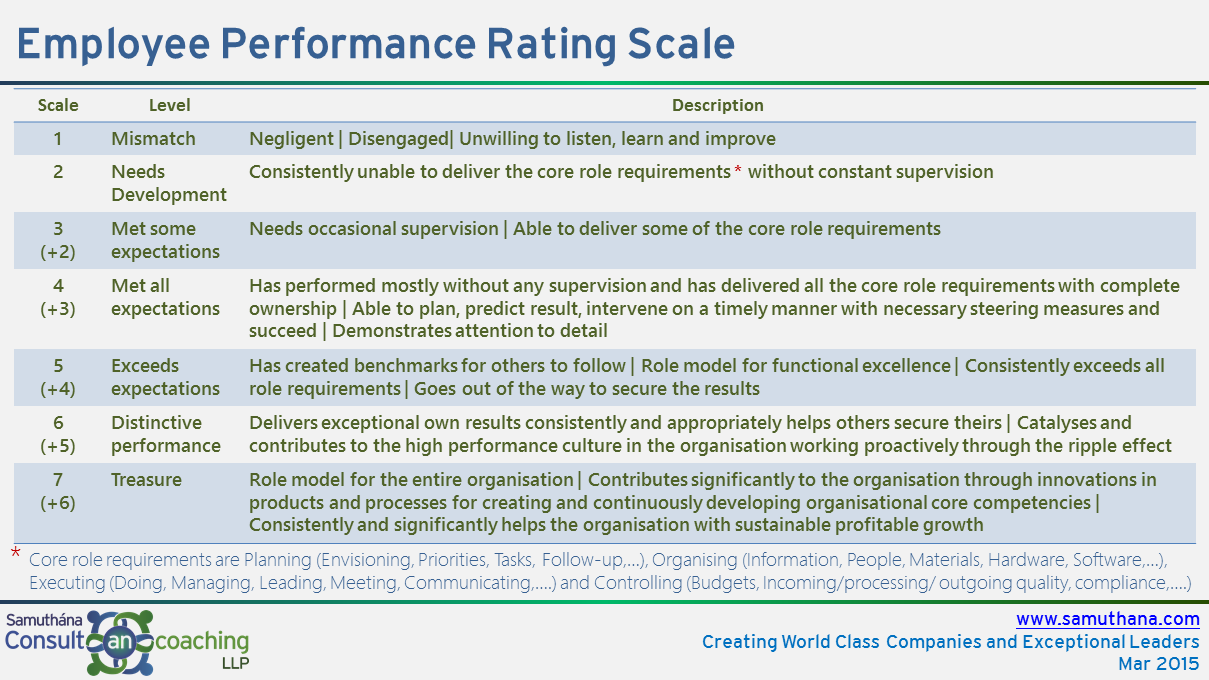 In a similar way it is sufficient to rate just the following 4 factors to assess the competence. Even in the case of the competency assessment normally the gut feel each one of us develop of others is quite uniform.
Self-awareness and self-management competence
Social-awareness and teamwork competence
Business, professional and functional competence
Product, services and organizational core competence
The rating scale even for the competency assessment is spread from 1 to 7.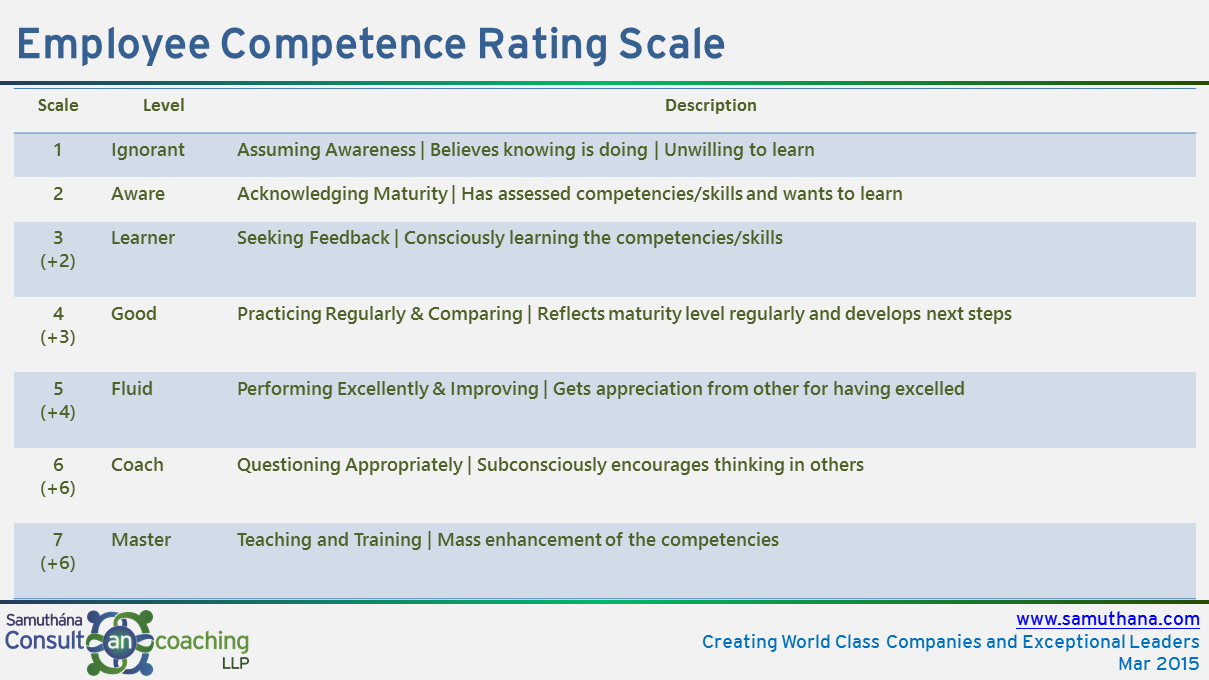 The same factors and scale can be used for both individual contributor roles and leadership roles. In the case of the leadership roles it is a common assessment of both the leader and the leader's team as one entity. Subsequently the most effective way of L&D would be either as individuals or as teams (Leader + Team Members).
Irrespective of different perceptions and opinions, the foundation to get every employee contribute passionately is a uniform assessment from various people. The uniformity in the assessment will be additionally safeguarded by getting the assessor note down evidences for the rating of each factor. This magic is then created since all the employees perceive a very high degree of fairness in the organization.
Wishing you all the best in your excellence journey!